·
To order through the mail using our mail order form click here.
·
Phone Orders:
320-983-5410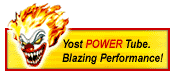 Welcome to Yost performance website, home of the only real fuel atomizer. For your convenience we have an online store to make your purchases quick and simple without having to leave the comfort of your home. Please take your time and look around. If you have any questions see our contact page.






PROMOTION:


Yost Power Tube for stock OEM and aftermarket Harley Davidson motorcycle carburetors. Free Slow Speed Jet ... more.