TIPS: THIS KIT WAS DESIGNED SPECIFICALLY for the Screamin Eagle CV44 Carburetor, this kit will NOT function properly when used on the stock OEM CV40 carburetor.

Jetting may be the same as stock, but because of a variety of different high performance products, it is best to make sure that the jetting is properly set (a spit or pop thru the carburetor or a ping or knock in the engine under a heavy load is a lean condition, if the carburetor is overly rich, the bike will simply be sluggish). Drilling the vacuum port hole in the slide with the supplied1/8ä drill bit is a good choice for general-purpose racing (NOTE: drill the vacuum port hole with the 7/64 drill bit (also supplied in this kit) if this kit is intended to be used on very heavy bikes i.e. FLHT, FLHR &FLHTC ECT. Or to be used with drag pipes, high altitude, and some high performance camshafts) The vacuum port can be enlarged further, but use good judgment when selecting the port diameter, if the port diameter is too large the slide will open too fast and create a flat spot.

Maximum performance can ONLY be obtained by using a high flow air cleaner (open style) and exhaust system or mufflers. (Basically, anything other then stock units will work well.)

NOTICE: ON ALL BIKES, THE NEEDLE HOLE MUST BE DRILLED WITH THE SUPPLIED 1/8` DRILL BIT (see figure 1)

INSTALLATION INSTRUCTIONS FOR CV44 YOST POWER TUBE.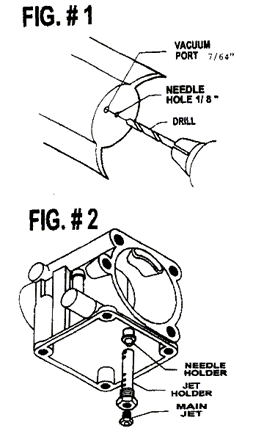 1. Remove the carburetor from the motorcycle (if you have questions, consult a factory service manual.)
2. Remove the air cleaner assembly.
3. Remove and drain the float bow
4. Remove the stock main jet and jet holder.
5. Reuse the stock slow speed jet (or low speed jet) a #48 was supplied with your carburetor.
6. Install the new power tube with a supplied 225 main jet, on bikes with the 95ä Big Bore Kit, drag pipes, etc. as a rule of thumb, simply to be on the safe side, use a main jet 1 to 2 sizes richer than your original main jet, (the smaller number jets are leaner, the larger the number, the richer the jet). DO NOT OVERTIGHTEN; the power tube will be damaged. This kit also comes with 215, 220, 225 & 230 main jets if you need a leaner or richer mixture. . Our jets are completely interchangeable with the stock H-D Jets. (See figure 2)
YOST PERFORMANCE PRODUCTS, INC NOW HAS A LARGE VARIETY OF JETS AVAILABLE IN 3 DIFFERENT JET PACKS RANGING IN SIZE FROM 165 TO 250, 6pk for only $14.95
7. Install the float bowl.
8. Remove the cable holder and black plastic cover on the top of the carb, (on late model carbs, you will find a brass reducer washer underneath the cable holder).
9. Remove the slide, spring & spring retainer (the white plastic spring retainer has six fingers on it.)