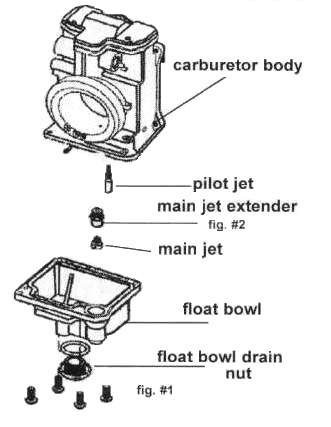 INSTALLATION INSTRUCTIONS:

1. Disconnect the battery, (to prevent accidental startup).
2. Turn off fuel at the fuel tank petcock.
3. Remove the float bowl drain nut, (See figure #1) and drain out the fuel into an approved gasoline container.
4. Remove the float bowl, (4 Phillips screws attach the float bowl to the carburetor body.)
5. Remove the main jet extender, (see figure #2).
6. Install the Power Tube, for ease of installation; turn the throttle open half way. (The Power Tube replaces your original main jet extender).

PLEASE READ THIS!!!!!!!!!!!!!!!!!
7. Install one of the supplied main jets. Which jet to use depends on your individual bike. The choice will be made considering such things as exhaust, cams, and other high performance additions your bike may have. Note: the main jets in this kit are interchangeable with stock H-D CV main jets and can be purchased at any OEM or any aftermarket H-D dealer. However, they are not interchangeable with Mikuni jets, the jet threads are different, even though the actual size of the jets are the same, IE; if you have a 175 Mikuni main jet installed originally, then use the supplied 175 main jet in this kit.
8. Reassemble the carburetor.