·
To order through the mail using our mail order form click here.
·
Phone Orders:
320-983-5410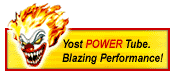 Products > Motorcycles > CV44
To determine what shipping costs are, add the desired product to the shopping cart and it will give you our shipping options.
CV-44 Master Kit - Yost Power Tube

Each kit come complete with the emulsion tube, Yost Power Tube (press fitted into the emulsion tube), Blue and Red (pat) needles, 7/64" and 1/8" drill bit, compression spring, 215, 220, 225, 230 main jets, and washers. Need more jets?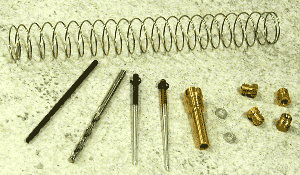 Instructions

FAQ
CV44 REV 1 w/ Free Slow Speed Jet: PTR2 $104.95
CV44 REV 1 w/ Free Wrench: PTR2W $104.95